Ranger Bay Boats 2023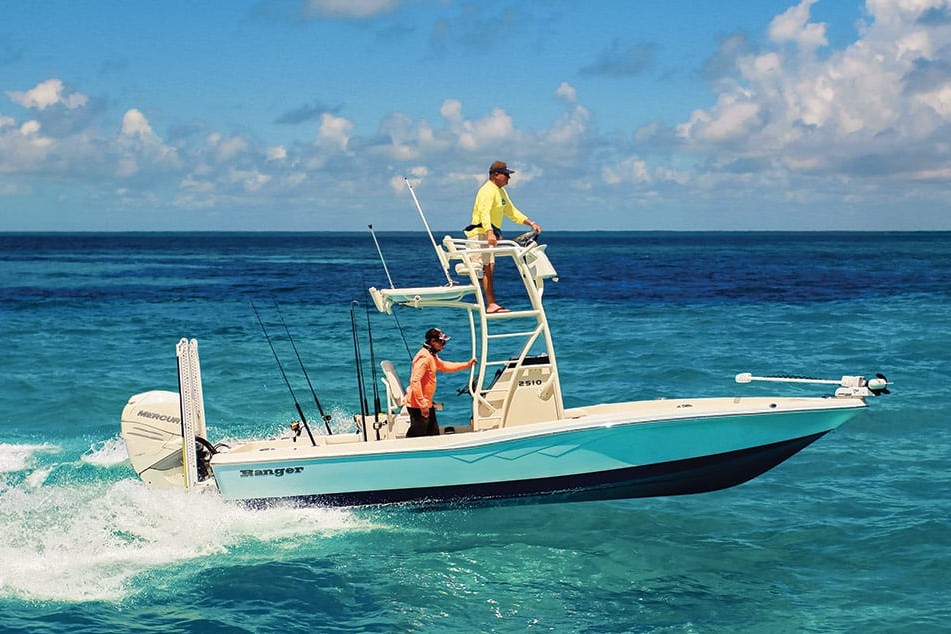 Ranger Boats, a renowned name in the boating industry, continues to raise the bar with their exceptional craftsmanship and cutting-edge innovations. As we step into 2023, Ranger Bay Boats introduces thrilling updates and exciting features across their lineup. In this blog post, we'll dive into the enhancements of three popular models: the 2600 Bay, 2510 Bay, and 2360 Bay. Prepare to be impressed by the performance, versatility, and luxurious amenities that make these boats a top choice for boating enthusiasts.
Ranger 2600 Bay
The Ranger 2600 Bay has long been revered for its unmatched performance and versatility. In 2023, this legendary model receives significant updates to elevate your boating experience even further. One notable enhancement is the redesigned hull, engineered for enhanced stability, agility, and a smoother ride in various water conditions. The spacious deck offers ample fishing space, while the innovative storage compartments ensure all your gear is organized and easily accessible. The 2600 Bay also features enhanced seating options and redesigned consoles that provide optimal comfort and control. With its powerful outboard engine options, cutting-edge electronics, and improved fuel efficiency, the Ranger 2600 Bay continues to set the standard for premium bay boats.
Ranger 2510 Bay
The Ranger 2510 Bay, known for its exceptional fishability and all-around performance, receives exciting updates for 2023. This model is designed to deliver an unparalleled angling experience while ensuring comfort and versatility for all boating activities. One of the notable updates is the inclusion of a newly designed casting deck with integrated rod storage, providing easy access to your fishing gear. The spacious livewells and baitwells are strategically placed to maximize efficiency and keep your catch in prime condition. With enhanced hull performance, improved electronics integration, and a refined console design, the Ranger 2510 Bay is the ideal companion for both serious anglers and recreational boaters.
Ranger 2360 Bay
The Ranger 2360 Bay is a compact powerhouse that packs a punch in terms of performance and features. For 2023, this model undergoes exciting updates to enhance its overall functionality and aesthetics. The redesigned hull delivers improved stability and handling, allowing for a smooth and controlled ride. The spacious cockpit provides ample room for fishing or relaxation, while the updated seating options ensure optimal comfort for all passengers. With increased storage capacity and innovative compartments, you'll have no trouble keeping your gear organized and accessible. The 2360 Bay also features advanced electronics integration, enhanced fuel efficiency, and a stylish design that will turn heads on the water.
Conclusion
Ranger Bay Boats continues to set the benchmark for excellence in the boating industry, and the 2023 lineup is no exception. The enhanced Ranger 2600 Bay, 2510 Bay, and 2360 Bay models showcase the brand's commitment to innovation, performance, and luxurious comfort. With their updated hull designs, spacious decks, cutting-edge electronics, and improved storage solutions, these boats provide the ultimate boating experience for anglers and boating enthusiasts alike. Step aboard a Ranger Bay Boat and discover a world of adventure and unparalleled enjoyment on the water.
If you're looking for a Ranger Bay boat for sale, there is no better place to look than at theboatstop.com! At The Boat Stop, you can find an ever-growing inventory of both new and used Ranger Bay boats for sale, with new listings coming every single day. Whether you're selling your Ranger Bay boat or buying a new one, there is no better site to do so than theboatstop.com!